With our overnight medical boarding for cats, dogs and exotic pets, our Baltimore veterinary team strives to provide a home away from home while your pets relax and recover.
We treat your pets like family
We know it can be difficult to leave your pet - especially if they are ill, or when they are recovering from a surgery or procedure. At Falls Road Animal Hospital, we want to help ease any concerns. 
Whether your pet will be staying with us for doggy daycare, overnight kennel boarding, cageless boarding or medical boarding, he or she will be in loving and experienced hands.
Our expert veterinarians and nurses will supervise your cat, dog or exotic friend(s). We administer medications and watch over them closely, caring for any medical issues that arise.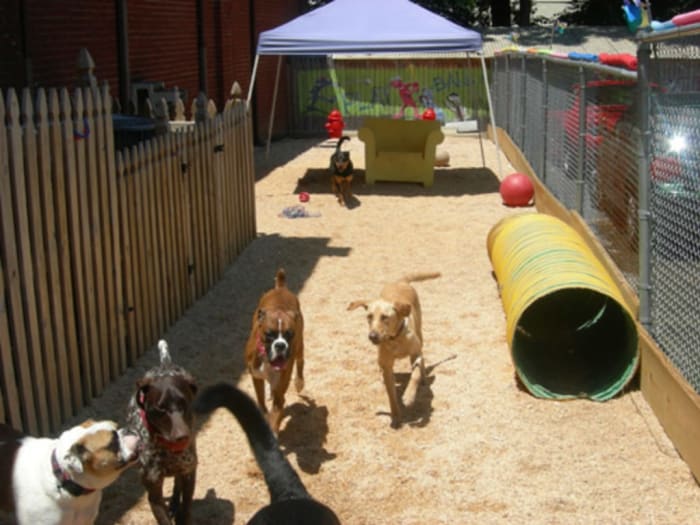 Boarding
Some people wake up in the morning and dread going to work, but not the folks at For Pet's Sake Kennel.
For them, work is one of the best parts of their lives, because they spend their days pampering dogs and cats.
Our staff love spending time with your four-legged friends.
Dogs
Kennel Boarding

At for Pet's Sake Kennel, we require dogs to be up to date on their exams and vaccinations to ensure all animals stay safe and healthy during their stay.

Dogs must be up to date on:

Wellness exam
Vaccinations for: DHPP, Leptospirosis, Canine Influenza, Bordetella, and Rabies
Annual fecal parasite exam
Year-round heartworm, flea and tick prevention medication

Doggy Daycare

Located inside For Pet's Sake, we have 4 indoor playrooms to accommodate different sizes and personalities, a large outdoor fenced yard connected to the daycare, an agility course, and wading pools in summer.

After breakfast, your dog will go down to play in daycare for 6 to 7 hours for a full day and 3 hours for a half day. Then they will return to their cage before dinner.

If it's your dog's first time, he or she will be evaluated before being placed with the group. To add daycare to your dog's boarding stay, let us know when you drop your dog off for boarding.

Daycare is available for boarding dogs at a reduced rate. There are 2 options: full day and half-day.

Our Staff

We have daycare assistants who are here to play and look after the dogs around the clock. Some of our former assistants have gone on to work as veterinary assistants and have been accepted to internship programs with the Maryland Zoo.

Cageless Boarding

Your dog will spend the day in daycare with our daycare assistants and other dog friends and then get a room to himself overnight. Our assistants are teamed with our emergency doctors and technicians to give your dog the ultimate fun and safe boarding experience.

Daycare during the day is provided by our Doggie Daycare experts and includes medication administration, our kennel food (Hill's Sensitive Stomach) or your dog's food from home, a kennel bed or your dog's bed from home, and a bath.

All dogs sleep separately, are fed separately, and provided "alone time" after they eat. This is to prevent health problems that may occur if they were to play right after eating.

Our Cageless Boarding services are in high demand and space must be booked ahead of time. To reserve space for cageless boarding, call us.
Cats
Cat Care

Our feline guests are cared for by our trained staff with love. Your cat will receive medication and/or food according to their requirements and your specifications, to ensure their routine is consistent with their experience at home. 

We provide daily one-on-one interaction with kitties (who want it) including pets, snuggles, and play. Litter boxes are checked, cleaned and disinfected periodically during the day. 

Additionally, linens are refreshed and your kitty's room is cleaned each day. Our cat boarding area is physically separated from the dog area to ensure your feline friend feels safe and relaxed while they are with us. 

Kennel Boarding

At for Pet's Sake Kennel, we require cats to be up to date on their exams and vaccinations to ensure all animals stay safe and healthy during their stay.

Cats should be up to date on:

Wellness exam
FVRCP
Rabies vaccinations
Download Boarding Forms
Download the appropriate form, complete it and bring it with you on drop-off day.
FAQs About Pet Boarding
Our staff are serious animal lovers, and we love giving animals all the care and attention they need while they're staying with us. 
Here are some Frequently Asked Questions from other pet owners who have used pet boarding services at Falls Road Animal Hospital.
If you have questions about boarding that aren't answered here, please feel free to contact us!