Dr. Amanda Kordenbrock is a veterinarian at Falls Road Animal Hospital in Baltimore.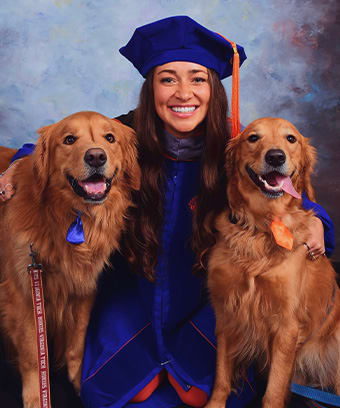 Dr. Kordenbrock was born in Philadelphia, PA, and lived in Ohio and Indiana before her family decided to settle in Maryland while growing up. She earned her Bachelor of Science in Animal Science from Virginia Tech and then her DVM from the University of Florida College of Veterinary Medicine.
Dr. Kordenbrock has special interests in neurology and internal medicine. She is very passionate about the human-animal bond and animals' positive impact on our mental health. She has dreamed of becoming a veterinarian since she was just 6 years old and is so grateful that her childhood dream has come to fruition.
Outside work, Dr. Kordenbrock enjoys listening to music, going to concerts, painting, crafting, meditation, and going on walks/hikes with her two dogs. She has two Golden Retrievers named Riggins and Bubba Joe (fun fact - they are father and son). Riggins was used for breeding as part of a research study at the University of Florida that focused on the treatment of muscular dystrophy in Golden Retrievers. Bubba Joe was born as a result!
Dr. Kordenbrock on Fox 45 Good Day Baltimore
Many people don't realize how dangerous human foods and treats can be for our dogs. Dr. Hammond and Dr. Kordenbrock chat with Tom Rodgers about what to do if your dog eats something they shouldn't.